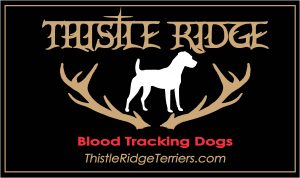 Thistle Ridge In the News
We had the honor of being featured in an article for Texas Fish & Game Magazine this past October! Texas Fish & Game Article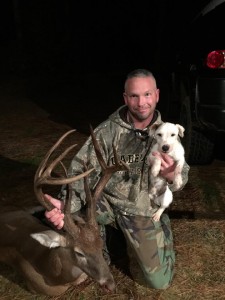 Riddock located this monster for John late season 2014
Blood Tracking Dogs for Locating Wounded Game Animals
For some people, hunting is a hobby. For others it is a passion. At Thistle Ridge, it is an obsession. Whether it's predator hunting, varmint hunting, bow fishing, bird hunting, or chasing big game, we hunt every month of the year. As avid hunters, we know what it's like when you wait and wait for the perfect game animal, only to miss arrow placement or get the shakes and shoot it in the wrong spot! We bow hunt and rifle hunt and are year round hunters of feral hogs, which are destroying property all over the state of Texas. It is estimated that there are over 2.5 million feral hogs currently running amok in our state and the sport of feral hog hunting is growing every day. Whether you are an individual that needs a good tracking dog, or a Game Ranch that could use an extra tool, we have the dog for you. We have proven tracking dogs, and all of our dogs are bred for strong scent detection work. We take tracking very seriously and are members of United Blood Trackers https://www.unitedbloodtrackers.org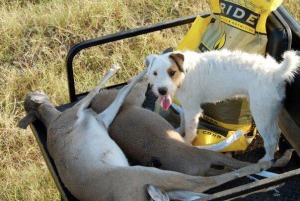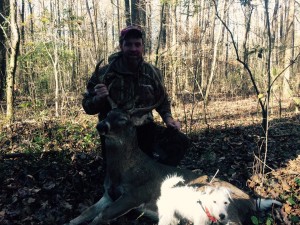 If you prefer to train your own puppy, and have never done so, we can assist you in getting started with one of our puppies. If you prefer a started puppy or fully trained dog, we can assist you there as well. A started dog will be introduced to scent and the process of tracking a wounded animal. A fully trained dog will be ready to take to your ranch and begin finishing work with the real thing. It will include a demonstration on a track, and all of the commands. We can also incorporate your tracking or training collars into the process
Puppies selected for tracking are done on a reservation only basis. If you want to train your own puppy we will do our very best to select the puppy that shows the most potential, but cannot guarantee the success of anyone's training but our own.  These puppies are available at 8 weeks of age and the cost is $1500.
Started puppies will take approximately two months to get them consistent on scent which will make them available at approximately 4 months of age. The cost of a started puppy is an additional $500 making the total cost $2000 for a puppy introduced to scent (they are trained the same way all of our scent trained dogs are) and will be introduced to a short drag and straight, easy track.
Blood tracking pups will take approximately 6 months to finish to be ready to work with you on game, which will make them available as a fully started dog at approximately 9-10 months of age. The first two months will be focused on scent introduction, and the final four months will be spent on proofing, light obedience training, and active field work. The cost of a training a puppy is $2500 (based on $500 for the first two months and $500 per month for the next 4 months), making the total cost for the puppy and the training $4000. You must provide the tracking equipment if you plan on using a GPS collar. Any travel required for me to come to you for special training (aversion to baits, traps/snares, or any live animal at a ranch) will require an additional training fee and travel expenses.
To reserve a dog a deposit of $500 is required. For started and fully started puppies, the full cost of the puppy is due at 8 weeks of age and the first training payment is due at that time as well. Started and finished dogs must be picked up by at least one of the handlers or delivered to you so that we can go over all of the training and proofing exercises. We do not ship dogs, all training must be gone over in person so please plan accordingly to arrange travel.
We occasionally have a fully trained young adult that we have already worked available for purchase. Adult dogs that are fulling working in the field and that are doing active recovery begin at a starting price of $5000.