Dogs and Puppies Available – Please read thoroughly before contacting us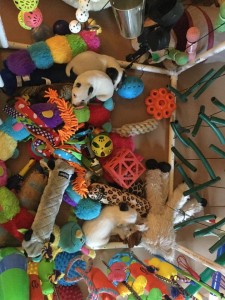 I will post upcoming litters and what their purpose is. To reserve a puppy a non-refundable deposit is required. Puppy prices start at $1000 and are non-negotiable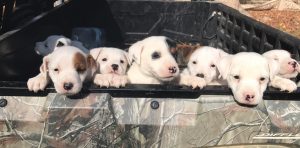 For the most current information, pictures, and litter announcements, please follow us on Facebook at https://www.facebook.com/thistleridgeterriers/
UPDATED 05/01/17 – We currently have many tracking dog prospects available.
Any pet quality puppy will be offered to existing Thistle Ridge Terrier owners first and then we will go to our waiting list. We rarely have Jack Russells available to pet homes but we can refer you to a reputable breeder that breeds to the same standards that we do.
To be considered for our waiting list, please send an email with all of your information and the plans for your puppy (blood tracking, falconry, pest control, narcotics work, etc.). If you are considering getting on our waiting list for a pet puppy please know that each puppy is matched with the individual family and it could take up to a year to receive your puppy. Only serious inquiries with deposits will be put on our waiting list. We do not place puppies based on color or coat. Preference will be considered as long as the dog fits the needs, but we do not refund deposits based on these factors.
All of our litters are bred for a specific purpose and the wait for a pet puppy may be more than a year unless one becomes available from one of the working litters due to lack of drive.
 As of 05/01/17 we have many Tracking prospects available.  Tracking prospects purchased with a training agreement will be given top priority: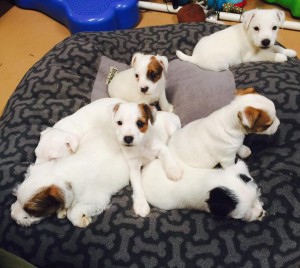 Haven x Jax – Born 10/20/16 – I have one white started male available to tracking or falconry homes. he has been started and is  working fur and blood well and have been exposed to both deer and wild hog. He is currently at the $2000 price level (0r can be brought to the well started level for $4000). Please see link for most current demo videos
Brill and Riddock
Puppies were born 01/19/17 and we have 2 females and one male available for working homes. Puppies for tracking and falconry begin at $1500 and go up according to training package if you choose for us to train your puppy. Please see the blood tracking section for more info!
Smooth female – VERY HIGH DRIVE, available to tracking home only with experienced dog owners
Rough white female – is doing very well with tracking and scent work. She has a very nice off switch but is a dedicated worker. Available to tracking or falconry home.
Rough Tan & White male – this is a great puppy! He is very attentive with nice drive and a good off switch. Available to tracking, falconry, or experienced terrier home.
Tan and White heavy broken or possibly rough female – she is very sweet and not showing a high amount of drive, but is very attentive and likes to please. She would be suitable as a family pet or as a dog that does competition that relies on a good attention span and handler involvement.
Pups born 3/19/17 will be tested during the second week of May and expect some nice smooth pups suitable for tracking or falconry work.
Smooth white female
Tan & White smooth male #1
Tan & White smooth male #2
Litter born 3/30/17
Three females and this cross has produced tracking dogs every time we have done it. Litter will be tested the 3rd week of May. There is a tri female, a tan and white female, and a white female
Chilbrook Murphee Brown "Muddy" (Chocolate Labrador – CHIC #120605) will be bred in the Spring of 2017  for scent work, retriever work, and service work. Muddy has the perfect combination of drive, temperament, and the traditional retriever qualities that we love. We have selected a stud dog that we feel will compliment all of her good qualities and that has the classic labrador conformation and is an AKC Champion and a Master Hunter.